Guggulu- The Most Fascinating Resin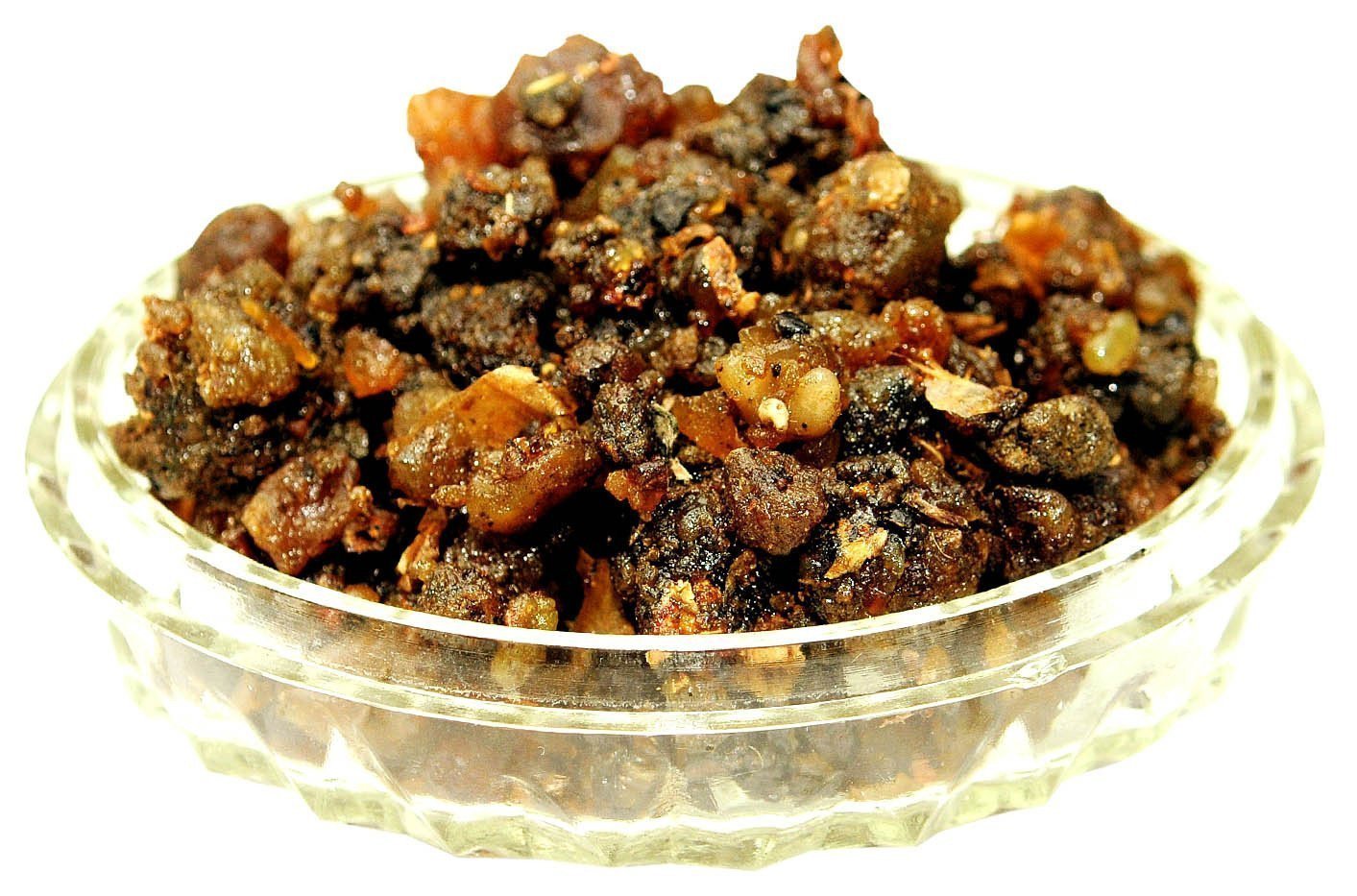 Guggulu is one of the most popular medicinal drugs of cardinal importance in the field of Ayurveda. It is a crooked spiny shrub that exudes resin used extensively in Ayurvedic Medicines.
Botanical name:
Commiphora mukul
English name:
Indian Myrhh
Sanskrit name:
Guggulu
Malayalam name
: Gulgulu
Medicinal Properties of Guggulu
| | |
| --- | --- |
| Heals Fractures | Anti-aging properties |
| Anti-inflammatory- Reduces swelling | Fights Obesity and reduces Hypercholesterolemia |
| Useful for Urolithiasis (Kidney Stones) | Skin Diseases |
| Anti-neoplastic (fights cancer) | Anti-helminthic (fights intestinal worms) and anti-microbial |
| Analgesic – Painkiller | Cardioprotective- Protects the Heart |
| Aphrodisiac | Wound healing properties |
 Indications of Guggulu
–

Rheumatoid Arthritis

-Gouty Arthritis

-Cervical Spondylitis

-Osteoarthritis

-Sciatica

-Frozen Shoulder

-Synovitis of the Knee joints

-Obesity
IMPORTANT GUGGULU PREPARATIONS IN AYURVEDA
CAUTION: All of the medications described here are being used solely for educational reasons. This does not replace seeking expert medical advice. Before using any medications, please seek the advice of a licensed Ayurvedic practitioner. Please keep out of the reach of children.
MAHAYOGARAJA/YOGARAJA GUGGULU
Mainly indicated in Vata Rogas (diseases caused by the imbalance of bio-energy Vata), Obesity, Skin Disorders, and Eye disorders.
Suitable adjuvants are given along with the same according to the condition eg. Yogaraja Guggulu with Honey for Obesity.
It is mainly indicated in VataRakta (Gouty Arthritis) and possesses the qualities that help purify the blood and decrease Uric Acid.
Also reduces pain and inflammation associated with Gout.
In addition, it is also used in itching, burning sensations, and discoloration in skin diseases.
As the name suggests, it is mainly used in Rheumatoid Arthritis by getting rid of inflammation and associated pain.
Excellent for Obesity, Hemorrhoids, Constipation, or Heartburn.
Indicated in Obesity
Used for Obese patients with low bone density and patients with fractures.
Used to treat Hypothyroidism, and also Thyroid Nodules.
Strong diuretic and also used in disorders like Kidney Stones, Hyperuricemia, Diabetes Mellitus, Urinary Tract Infections, etc
Used in Odema, Ascites, Obesity, and Osteoarthritis.
Effective in Gout, Skin Disorders, Venous Ulcers, etc
Excellent for Osteoarthritis due to its anti-inflammatory, analgesic, and amazing effect on low bone density.
Effective in non-compressive Cervical Spondylitis.
Corrects autoimmunity. Also improves digestion thereby being effective for Rheumatoid Arthritis as per Ayurveda.
GUGGULU AS A FUMIGANT
Guggulu is prepared into a paste and formed into sticks, which are then burnt to fumigate homes. It is used with other antimicrobial medications, such as turmeric and turpentine. Used to keep the house disinfected and free from other parasites.
Side-effects
When used alone, Guggulu can cause an increase in body heat. Also, it has a tendency to cause Acidity, Constipation, or Heartburn. Therefore caution is advised.
Click here to learn more about Dashamoola.
---
---
---