The Unparalleled Advantages of Udwarthanam Therapy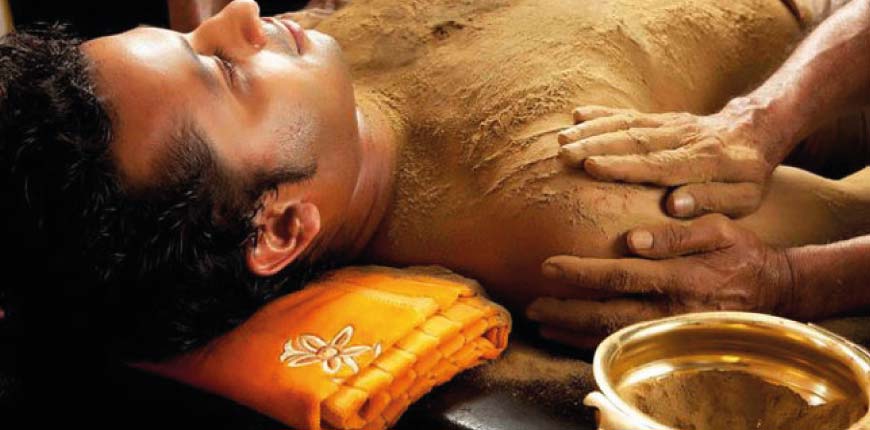 Udwarthanam is the practice of massaging the body upwards using medicated Ayurvedic powders against the direction of hair growth. It is one of the most common practices done today and is considered a mandatory practice in Ayurvedic Obesity Centres and Slimming Clinics. Udwarthana is considered a part of a healthy daily Ayurvedic regimen.
Etymology- 'Udhwa' means 'Upward' and 'varthanam' means 'to move'.
BENEFITS OF UDWARTHANAM
Provides stability to body parts

Rejuvenates skin and enhances complexion

Reduces drowsiness and promotes liveliness

Brings about a beautiful frame to the body

Said to unclog blocked channels in the body and thereby promote circulation

Removes sweat, dirt, and dead skin cells

Destroys morbid Doshas (bio-energies)

Improves appetite and digestion
INDICATIONS OF UDWARTHANAM
| | |
| --- | --- |
| -Obesity and Overweight persons | -Hypercholesterolemia |
| -Diabetes Mellitus | -Motor Neuron Disorders and Neuromuscular Disorders |
| -Psoriasis | -Diabetic Neuropathy |
| -Excessive sleep, Drowsiness, Insomnia, Laziness | -Metabolic Syndrome |
| -Polycystic Ovarian Syndrome | Sciatica |
| -Rheumatoid Arthritis | Hypothyroidism |
| -Muscular Dystrophy | -Cosmetic reasons |
| -Menstrual Disorders | |
CONTRAINDICATIONS OF UDWARTHANAM
Conditions associated with increased inflammation, redness, rise in body temperature, burning sensations, etc

Pregnant women, extremely old persons, and children

Degenerative Osteoarthritis

Wounds and burns

Skin conditions associated with oozing eg Eczema

Extreme emaciation
TYPES OF UDWARTHANAM
Snigdha Udwarthana -Oily. Also called Utsadana

Rooksha Udwarthana- Dry. Also called Udgharshana
UTSADANA (SNIGDHA UDWARTHANA)
The practice of powder massage with the addition of fats or oil is called Utsadana.

Indications:

Those suffering from co-morbidities of Vata Dosha (bio-energy), those with dry skin, weak and emaciated persons, those with reduced complexion, and those having dry and rough skin, etc

Oils used-

Ksheerabala Thailam, Mahamasha Thailam, Mahanarayana Thailam, Kottamchukkadi Thailam, Balashwagandhadi Thailam, Sahacharadi Thailam etc
UDGHARSHANA (ROOKSHA UDWARTHANA)
The practice of massage without the addition of fats or oil is called Udgharshana.

Indications:

 Those suffering from Co-morbidities of Kapha Dosha (vitiation of bio-energies), excess oiliness of the skin, Obese or overweight persons, conditions associated with stiffness, etc
POWDERS USED
Kolakulatthadi Choornam

Kottamchukkadi Choornam

Triphala Choornam

Triphaladi Choornam

Kulattha Choornam

Saindhava Lavana (Rock Salt)

Ishtika Choornam (Brick powder)
Click here to know more about Snehapanam Therapy
CAUTION: All medications described here are being used solely for educational reasons. This does not replace seeking expert medical advice. Before using any drugs, please seek the advice of a licensed Ayurvedic practitioner. Please keep out of the reach of children.
---
---
---